The challenge
Almost half the world's habitable land is now farmed to feed our global food production system. What happens on these farms will determine our biodiversity, climate and future health.
A unique opportunity exists to harness the power of farming and land use to address the challenges of climate change, biodiversity loss and declining public health through the introduction of a common framework to monitor farm sustainability.
However, there are barriers that prevent farmers becoming drivers of positive change.
There is no common language for on farm sustainability. There is no consistent definition of on-farm sustainability, limiting understanding of issues and where to start.
Existing definitions often overlook the interconnectedness of the farming system. Unless sustainability is understood holistically, taking into account environmental, social and economic outcomes, the pursuit of a single target can have unintended consequences on the rest of the system.
Sustainability frameworks are not developed for farmers. Often they are tools used by governments, companies and supply chains for data collection and impact reporting. This limits their ability to provide useful insights for farmers.
Focus on farm practices. Agriculture is context specific, so practices that deliver positive outcomes in one location may not do so in another.
No consistent way of measuring and monitoring sustainability
at farm-level. Farmers are asked to collect data in different ways, increasing the time-burden and complexity of assessment.
With the transparency of a common language, we connect and empower all stakeholders in the food system to drive this much-needed transition to planet friendly farming.
Show more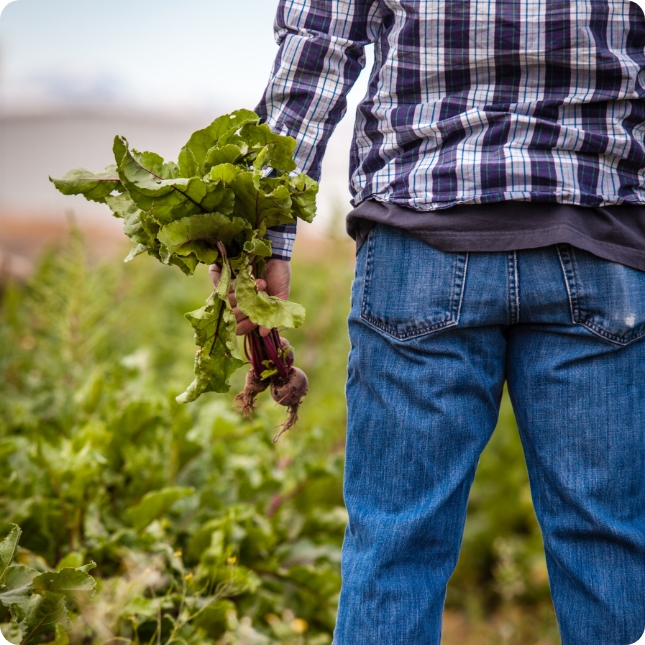 The solution
The Global Farm Metric defines on-farm sustainability and supports farmers to understand, measure and monitor the state of their farming system in a consistent way.
Evidenced based and evolving, the framework is supported by our coalition of researchers and farmers so that data collection is both practical and useful for farmers, and so that it generates a common language between farmers and other food and farming stakeholders.
The framework provides a holistic overview of farm sustainability. The 12 central categories of the framework make up all of the elements of the farm system so none is considered in isolation and farmers are better equipped to mitigate negative consequences in other areas. The sub-categories describe each of these in more detail and, together, encompass all aspects of farm sustainability. The indicators go one step further and demonstrate how farm sustainability can be evaluated in assessments so that farmers can track their progress towards environmental, social and economic outcomes.
The Global Farm Metric is designed to be embedded into farm assessments, audits, certification schemes and management tools. When adopted, a common framework aligns existing data-collection systems and establishes a baseline of farm-level data, reducing duplication and encouraging their use by farmers. Real progress towards positive change can then be benchmarked and monitored against sustainable development goals at a local, national and international scale.
As well as helping farmers reduce negative impacts and unintended consequences, a common framework facilitates the collection of harmonised data which can be used as a basis for farm support payments, provide access to new markets and support sustainable investment by the finance and food industries. This will shift the balance of financial advantage towards more sustainable production.
This collective action can drive positive change to accelerate the transition towards more sustainable food and farming systems.
Show more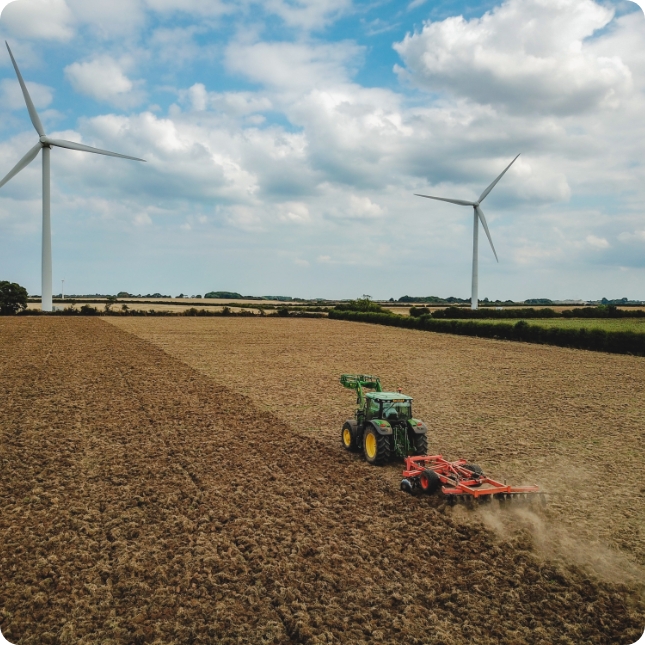 The framework
Click here to explore the Global Farm Metric categories, subcategories and indicators.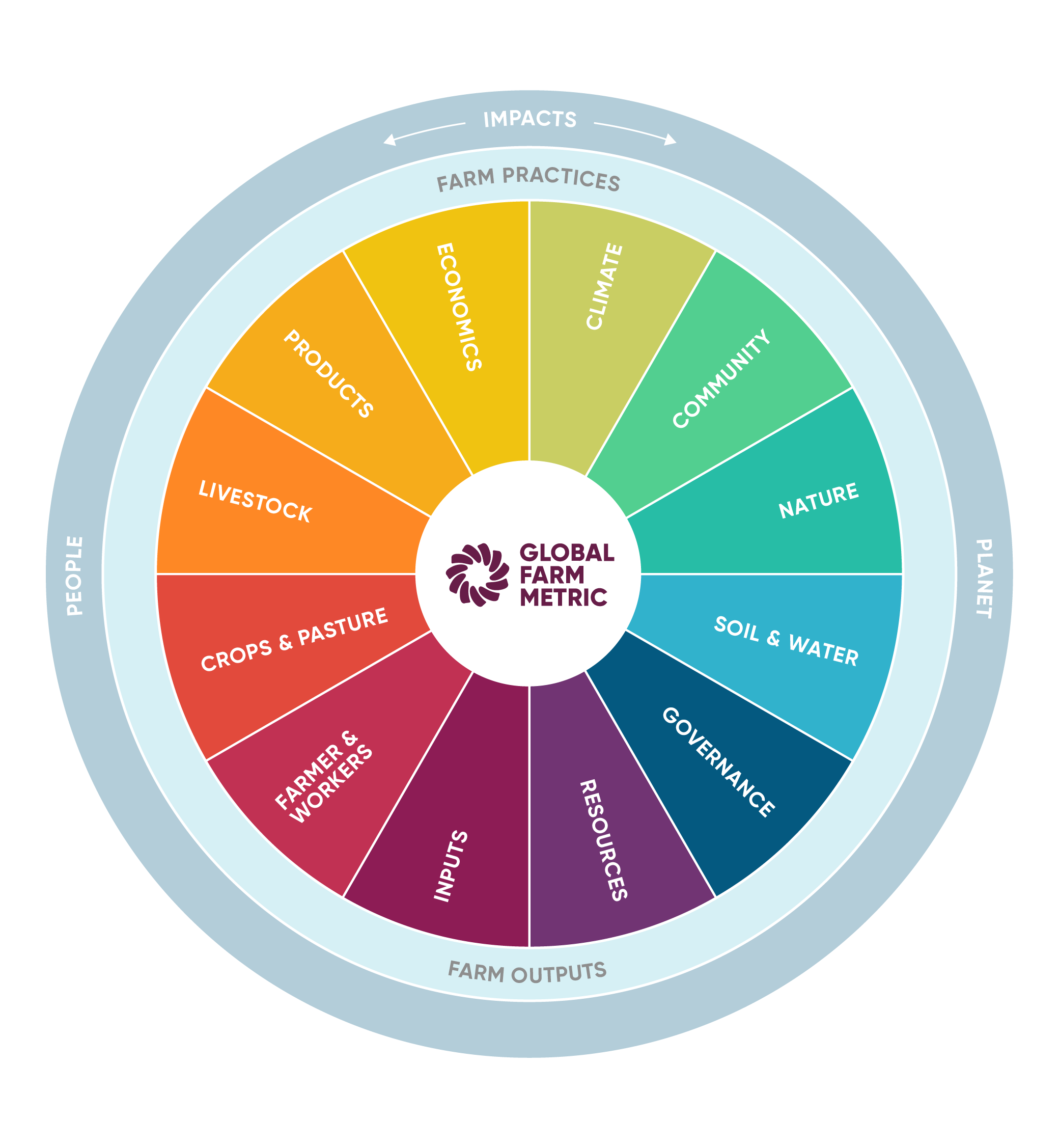 Global Farm Metric
Holistic
Measures environmental, social and economic indicators
Common language
Designed to be understood by all food and farming stakeholders
Farmer-led
Developed with farmers, for farmers
Outcomes-based
Measures the state of the farming system and changes over time
Inclusive
Applicable to all farming systems and landscapes
Evidence-based and evolving
Grounded in data and built on the latest scientific evidence
On-farm data
Supports farmers to collect primary data on their farms
Driving change
A common language drives positive action. It enables shared understanding, a supporting policy and economic environment and informed consumer choice.

The public
For citizens to mobilise consumer power, we need consistent and verifiable information.
A common language enables transparency and accountability across the supply chain. It can align food labelling and raises awareness of whole-farm sustainability.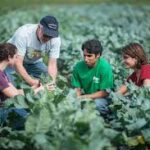 Educators
For knowledge exchange that inspires innovation and drives change globally, we need a shared understanding of sustainability at farm-level.
Expressed through the Global Farm Metric framework, a common understanding of on-farm sustainability will enable dialogue between educators, learners, consultants and farmers.
Frequently asked questions
Still have questions? See this document for further FAQs. You can also contact us via info@globalfarmmetric.org or @GFMCoalition on Twitter, LinkedIn and Instagram.